We're in your corner

Welcome! How can we help you?
When you're looking for a real estate law firm that listens to you in New York City, you don't have to look further than Albert Maimone & Associates, one of the city's most trusted law firms. These accomplished NYC lawyers — Albert and Peter Maimone and their team — offer a full-range of legal services for individuals and businesses, not just for real estate issues. At their boutique law practice, the focus is on protecting your interests and achieving your goals.
A client-centered approach allows these highly regarded lawyers to build lasting relationships, as many clients are referrals from previous clients. With decades of combined experience in New York real estate law, they deliver timely, cost-efficient legal solutions for buyers, sellers, investors, tenants, landlords and management companies. They understand the real estate issues of small- and medium-sized businesses in all five boroughs, as well as Nassau and Suffolk counties.
Serving New York

since 1990
What makes us stand out being the real estate lawyers.
At Albert Maimone & Associates, we believe that success starts with top legal representation and guidance.
Our experienced and approachable Queens-based attorneys work with individuals and businesses, analyzing all relevant laws and formulating tailored and effective legal strategies throughout New York.
About us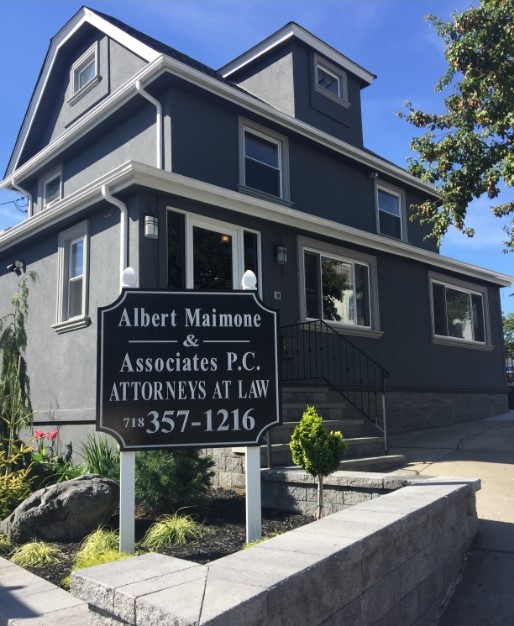 Frequently

Asked Questions?
What Areas of Practice Does this Firm Cover?
What Kind of Real Estate Law Cases Need Lawyers?
What Do Landlord or Tenant Rights and Disputes Involve?
What Are Some Landlord Liability Issues in NYC?
What Are Some Tenant Issues in NYC?
How Do These Lawyers Assist with Wills, Trusts, Estate Planning and Probate Law?
How Can a Lawyer Protect Me in Business or Civil Litigation?
This New York City law firm works with all clients to deliver the best legal solutions in diverse matters of law. From real estate investors, landlords and property managers to tenants and families, Albert Maimone & Associates offers custom legal solutions in line with New York State laws. Contact us today if you're looking for a real estate law firm that cares about your issues.
We highly recommend
Albert was a recommendation from a friend, and we were very grateful for this because Albert and his team were empathetic with our situation (this was an estate sale that was long and arduous). Albert went above and beyond for us by communicating with the estate lawyers, diligently reviewing and correcting all documents, negotiating on our behalf and most importantly was always willing to assist us (he was superb with his follow-up and replies to any of our inquiries). Thank you Albert! We highly recommend him!
Jules V.
Highly recommend Albert Maimone!
Ive used Albert Maimone for about 5 years and he has always looked out for me. He helped me purchase my house and get my mortgage and has also helped me out with tennant non payment cases .When ever i have a question or concern he always gets back to me fast and his rates a very reasonable. He has a lot of knowledge and experience in the law field, and his track record speaks for its self .Very simply he treats his clients like his family and i appreciate that.I look foward to keep using Albert in my future financial transactions. In conclusion I Highly Highly Highly recommend Albert Maimone!
Gio V.
He helped me plan
I used the Law offices of Albert Maimone & Associates, P.C. located in Whitestone, NY for numerous legal matters this past winter. Mr. Maimone was professional and courteous. He helped me plan my mothers Estate and helped me Sell my home in Whitestone, NY. I would recommend Albert Maimone & Associates, P.C. to anyone in need of an Attorney. He has a client for life.
Angela T.